Profile Roof Sheet Supplier & Corrugated Pre Painted Galvanized Sheet in UAE | Oman | Saudi | Qatar

Metal roofing profile is also named profile sheet, steel roof sheet, etc., The raw material used in our roofing metal sheet is pre-painted hot dipped galvanized steel sheet, used as popular structural metal roofing materials and pre-painted aluminium coil sheet.
Thickness: 0.30mm to 0.90mm
Standard Width after corrugation: 1000mm
Length: Subject to customer choice
We have wide range of colored corrugated sheet with RAL color according to our customer choice – like RAL 9002 – Off White, RAL 1014 light beige, RAL 1001 Beige, RAL 5012 Light Blue, RAL 6029 Light Green, RAL 5010 Dark Blue, RAL 7037 Grey, RAL 5002 EMMAR Blue, RAL 7046 Dark Grey, RAL 7036 Grey, RAL 1015 Ivory, RAL 3002 RED, RAL 9003 White, RAL 9010 Pure White, RAL 3020 RED, RAL 2004 Orange, RAL 7015 Grey, RAL 6038 Green, and more.
We manufacture and supply high grade trapezoidal cladding sheets, which are mostly purchased and installed for their attractive designs and endurance in building structure.
These profile sheets are built using high grade metals, such as stainless steel, copper, aluminum, zinc, bronze and titanium. The sheets come with accurate dimensions and are easy to install.
We process Profile sheet design with the following cover width:
– 35/200mm
– 45/250mm x 1000mm
– 45/150mm x 900mm
The Advantage of Metal & Aluminium Roofing Sheet:
(1) Easy installation
(2) High strength
(3) Low in costs
(4) Durable
(5) Nice appearance
Following accessories are required for the roof profile and sandwich panel sheet for industrial roof as top ridge, shed, bottom ridge, ware-house, vally gutter, rain gutter, and flashing corner.
We have the latest corrugation line in UAE for S Type / waves type corrugation (Galvanized Corrugated) sheet with 16 to 20mm.
Waves and pitch waves distance 75 to 76mm with cover width after corrugation 780mm 900mm 1000mm x Length.
We can cut the sheets based on our customer specification and choice.
Thickness: 0.28mm (Gauge32 to Gauge20) to 0.90mm
Galvanized Steel used in the profile sheet is procured from Ghosh Metal – Ajman.
Apart from manufacturing and supplying alluminum corrugated profile sheet in UAE | Oman | Qatar | Saudi, we also do business with our esteemed clients and partners based in Gabon, Kenya, Tanzania, Sudan and Djibouti,

(works on mobile or calling device)
For enquiry and sales of profile sheets, please email us on parimal@ghoshgroups.com or call +971 553 258 409
If you are on smartphone, press the nos to call directly
Metal Z & C Purlin manufacturer and supplier in UAE | Oman | Saudi | Qatar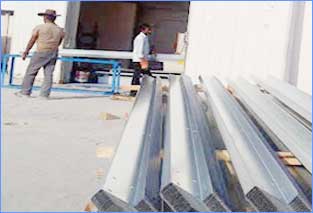 In steel construction field, the term 'Purlin' typically refers to roof framing members that span parallel to the building eave and support the roof decking or sheeting.
The purlins are in turn supported by rafters or walls. Purlins are most commonly used in Metal Building Systems, where Z-shapes are utilized in a manner that allows flexural continuity between spans.
In the steel industry there is a practice that structural shapes are assigned representative designations for convenient shorthand description on drawings & documentation.
Channel sections, with or without flange stiffeners, are usually referenced as C shapes;
Channel sections without flange stiffeners are also referenced as U shapes;
Point symmetric sections that are shaped similar to the letter Z are referenced as Z shapes.
Section designations can be regional and even specific to a manufacturer.
In steel building construction, secondary members such as purlins (roof) and grits (wall) are frequently C, Z or U sections, (or mill rolled) C sections.
Cold formed members can be efficient on a weight basis relative to mill rolled sections for secondary member applications.
Additionally, Z sections can be nested for transportation bundling and, on the building, lapped at the supports to develop a structurally efficient continuous beam across multiple supports.
We have all these specifications and we can also serve our customer according to their specificatoin.
Z & C Purlin Specification: ASTM A653.
Galvanized Steel Coil: Grade 50, SS340, Minimum YS 400 MPA, TS 450 MPA, Regular/Zero Spangle.
Thickness: 1.5mm to 3.5mm
Origin: Korea, India, Saudi Arabia.
(works on mobile or calling device)
| Web | Flange | Flange | Lip | Thickness |
| --- | --- | --- | --- | --- |
| 102 | 40 | 45 | 15 | 1.5 to 3.5 mm |
| 142 | 40 | 45 | 15 | 1.5 to 3.5 mm |
| 152 | 40 | 45 | 15 | 1.5 to 3.5 mm |
| 172 | 50 | 55 | 20 | 1.5 to 3.5 mm |
| 202 | 50/60 | 55/65 | 20 | 1.5 to 3.5 mm |
| 232 | 50/60 | 55/65 | 20 | 1.5 to 3.5 mm |
| 252 | 60 | 65 | 20 | 1.5 to 3.5 mm |
| 302 | 70/80 | 75/85 | 20 | 1.5 to 3.5 mm |
| 352 | 75/85 | 85/90 | 20 | 1.5 to 3.5 mm |
Our Main market of the Ghosh Metal Z and C Purlin: United Arab Emirates, Qatar, Oman, Africa, KSA.
Galvanized Decking Sheet Manufacturer and Supplier in UAE | Oman | Saudi | Qatar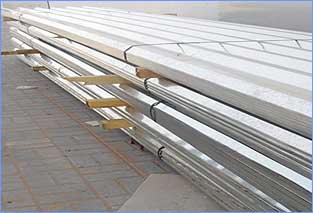 We manufacture high quality decking sheet using hot dip galvanized steel coil.
Thickness: 0.90mm to 1.2mm – and subject to our valuable customer specification.
For our high quality galvanized GI decking sheet, we maintain:
Grade: ASTM A653, Zinc 275 GSM, Regular Spangle.
Origin: India / Korea
Our galvanized decking sheet 45/150 mm is well known in UAE and Other GCC Countries for the quality.
Galvanized high strength roof decking sheets support the roofing elements by providing exceptional strength and strong structural platform.
In addition to this, an effective spanning of the roofs can be achieved by using these sheets for roof decking. With these decking sheets a strong solid base can be provided in any situation without using purlins or framing underneath the roofing.
Decking Sheet has features like weather proof , non-fragile, made of recyclable content, excellent design , greater span capability and dimensional stability of these sheets are excellent.
Roof Decking Sheets are mostly used to cover the roof and are capable to withstand various types of loads / pressure, therefore we use only superior quality of raw materials to design these sheets.
Materials like steel, aluminum or the alloys are important base materials for a robust construction. For offering excellent insulation the metal sheets are sandwiched between insulating polymers like polyurethane and polystyrene. These are following design considerations that we put to manufacture these sheets, adhesion, fixing or ballasting are notable design factors for long lasting capability.
All the materials chosen in these are fire proof, well designed to bear extra loads, condensation risk is also a main factor while designing these sheets – all to provide better insulation, full fill the acoustic requirements, compact and light in weight and designed meticulously in conjugation with the aesthetic importance
(works on mobile or calling device)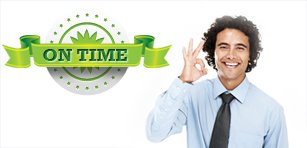 Globe Metals and Power strives to be a RELIABLE service provider and is COMMITTED to deliver the best output and highest quality service through the dedicated effort of every team member with accountability & determination.